Back to the Future
Theatrical release poster by Drew Struzan
Release Date
July 3, 1985
Running Time
116 minutes
Directed by
Robert Zemeckis
Producer(s)
Bob Gale


Neil Canton
Steven Spielberg

Written by
Robert Zemeckis


Bob Gale

Starring
Michael J. Fox


Christopher Lloyd
Lea Thompson
Crispin Glover
Thomas F. Wilson

Music by
Alan Silvestri
Edited by
Arthur Schmidt


Harry Keramidas

Production Company
Amblin Entertainment
Distributed by
Universal Pictures
Language
English
Country
United States
Budget
$19 million
Box Office
$389–392 million
Sequels
Back to the Future Part II
Back to the Future Part III
Related Wikia
Futurepedia
Back to the Future
is a 1985 comedic action-adventure film and first of the
Back to the Future
trilogy directed by Robert Zemeckis and written by Zemeckis and Bob Gale. It stars Michael J. Fox, Christopher Lloyd, Lea Thompson, Crispin Glover, and Thomas F. Wilson. The next two films,
Back to the Future Part II
and
Back to the Future Part III
, were released in 1989 and 1990 respectively.
The character Martin "Marty" McFly (played by Michael J. Fox) is a high school student who is friends with Dr. Emmett "Doc" Brown (played by Christopher Lloyd) and his dog, Einstein. Doc is a scientist and engineer who creates a time machine out of a DeLorean. Marty has to flee in the machine after Doc is tracked down by the Libyans from which he stole plutonium to power the "flux capacitor" in the machine. This sends him back in time, accidentally changing the past and threatening his existence.
The Time Travelers
Edit
Method of Travel
Edit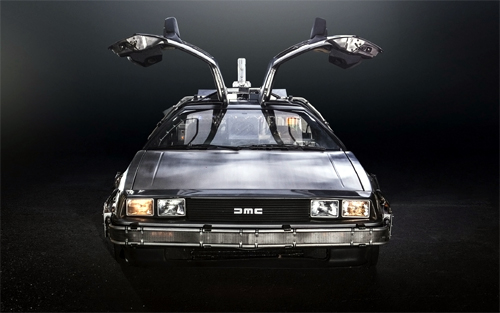 Using a flux capacitor powered by plutonium, Doc Brown's modified DeLorean DMC-12 travels through time once it reaches 88 mph.
Fixing the past
Disappearing hero
 Notable Quotes
Edit
"Where we're going, we don't need roads." -- Doc Brown
"Make like a tree and get out of here." -- Biff Tannen
"If my calculations are correct, when this baby hits 88 miles per hour, you're gonna see some serious shit!" -- Doc Brown
Time Travel Theories
Edit
Time Diagram
Edit
Popular Culture
Edit
Trailers
Edit