Frequency
Theatrical release poster
Release Date
April 28, 2000
Running Time
118 minutes
Directed by
Gregory Hoblit
Producer(s)
Gregory Hoblit


Hawk Koch
Toby Emmerich
Bill Carraro

Written by
Toby Emmerich
Starring
Dennis Quaid


Jim Caviezel
Andre Braugher
Elizabeth Mitchell
Noah Emmerich
Shawn Doyle

Music by
Michael Kamen
Edited by
David Rosenbloom
Distributed by
New Line Cinema
Language
English
Country
United States
Budget
$31 million
Box Office
$68.1 million
Frequency
is a 2000 American thriller film directed by Gregory Hoblit and written by Toby Emmerich. It stars  Dennis Quaid and Jim Caviezel as father and son.
The character John Sullivan (played by Jim Caviezel) is a homicide detective who finds his father's ham radio in the house in which he's lived his whole life. Thanks to a solar flare that makes the aurora borealis visible in New York, he is able to communicate with his firefighter father, Frank Sullivan (played by Dennis Quaid), to solve a cold case.
The Time Travelers
Edit
| Photo | Time Traveler | Played by |
| --- | --- | --- |
| | John Sullivan | Jim Caviezel |
| | Frank Sullivan | Dennis Quaid |
| | Julia 'Jules' Sullivan | Elizabeth Mitchell |
| | Gordo Hersch | Stephen Joffe |
Time Travel Theories
Edit
Fixing the past
Solving crimes
Time Diagram
Edit
Popular Culture
Edit
Trailers
Edit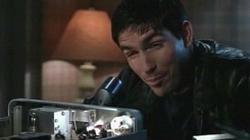 Ad blocker interference detected!
Wikia is a free-to-use site that makes money from advertising. We have a modified experience for viewers using ad blockers

Wikia is not accessible if you've made further modifications. Remove the custom ad blocker rule(s) and the page will load as expected.