Planet of the Apes
Theatrical release poster
Release Date
July 27, 2001
Running Time
119 min.
Directed by
Tim Burton
Producer(s)
Richard D. Zanuck


Ralph Winter

Screenplay by
William Broyles, Jr.


Lawrence Konner
Mark Rosenthal

Based on
Planet of the Apes


by Pierre Boulle
Planet of the Apes (1968 film)

Starring
Mark Wahlberg


Tim Roth
Helena Bonham Carter
Michael Clarke Duncan
Paul Giamatti
Estella Warren

Music by
Danny Elfman
Cinematography by
Philippe Rousselot
Edited by
Chris Lebenzon


Joel Negron

Production Company
The Zanuck Company
Distributed by
20th Century Fox
Language
English
Country
United States
Budget
$100 million
Box Office
$362.2 million
Related Wikia
Planet of the Apes: The Sacred Scrolls
Planet of the Apes
is a 2001 American film directed by Tim Burton. It stars Mark Wahlberg, Tim Roth, Helena Bonham Carter, Michael Clarke Duncan, Paul Giamatti, and Estella Warren. Written by William Broyles, Jr., Lawrence Konner, and Mark Rosenthal, the screenplay was loosely adapted from Pierre Boulle's 1963
novel of the same name
and the
1968 film version
.The film was the sixth produced in the Planet of the Apes franchise.
The Time Travelers
Edit
Dystopian future
Time dilation
Space travel
Notable Quotes
Edit
"Get your stinking hands off me, you damn dirty human!" -- Attar
"Damn them... damn them all to hell!" -- Thade's father
Time Travel Theories
Edit
Time Diagram
Edit
Popular Culture
Edit
Trailers
Edit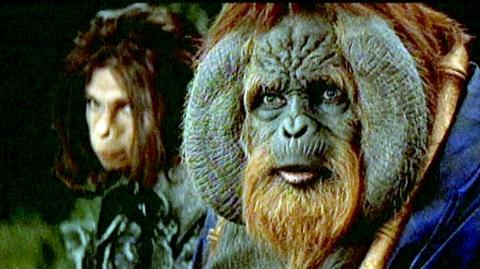 Ad blocker interference detected!
Wikia is a free-to-use site that makes money from advertising. We have a modified experience for viewers using ad blockers

Wikia is not accessible if you've made further modifications. Remove the custom ad blocker rule(s) and the page will load as expected.