Project Almanac
Theatrical release poster
Also called
Cinema One


Almanac
Welcome to Yesterday

Release Date
Jan. 30, 2015
Running Time
106 minutes
Directed by
Dean Israelite
Producer(s)
Andrew Form


Bradley Fuller
Michael Bay

Written by
Jason Harry Pagan


Andrew Deutschman

Starring
Jonny Weston


Sofia Black D'Elia
Sam Lerner
Allen Evangelista
Virginia Gardner
Amy Landecker

Music by
Matthew J. Lloyd
Edited by
Julian Clarke


Martin Bernfeld

Production Company
Insurge Pictures


Platinum Dunes
MTV Films

Distributed by
Paramount Pictures
Language
English
Country
United States
Budget
$12 million
Box Office
$32.2 million
Project Almanac
(formerly titled
Cinema One
,
Almanac
, and
Welcome to Yesterday
) is a 2015 American found footage thriller film directed by Dean Israelite and written by Jason Harry Pagan and Andrew Deutschman. It stars Jonny Weston, Sofia Black D'Elia, Sam Lerner, Allen Evangelista, Virginia Gardner, and Amy Landecker.
The Time Travelers
Edit
The character David Raskin (played by Jonny Weston) is a high school senior and an aspiring inventor recently admitted into MIT who finds his present self in a video of the past. He, his sister, Christina Raskin (played by Virginia Gardner), and friends, Adam Le (played by Allen Evangelista) and Quinn Goldberg (played by Sam Lerner) discover blueprints for a temporal relocation device developed by David's father for the U.S. military. They build the device and use the battery of the car of David's crush, Jessie Pierce (played by Sofia Black D'Elia) to travel in time. Pierce also goes with them.
Classified government project
Fixing the past
Gambling
Time Travel Theories
Edit
Time Diagram
Edit
Popular Culture
Edit
More Information
Edit
Trailers
Edit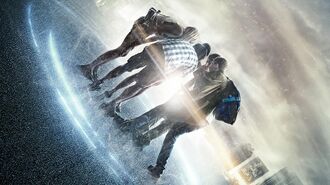 Ad blocker interference detected!
Wikia is a free-to-use site that makes money from advertising. We have a modified experience for viewers using ad blockers

Wikia is not accessible if you've made further modifications. Remove the custom ad blocker rule(s) and the page will load as expected.