The Terminator
Theatrical release poster
Release Date
Oct. 26, 1984
Running Time
107 minutes
Directed by
James Cameron
Producer(s)
Gale Anne Hurd
Written by
James Cameron


Gale Anne Hurd

Starring
Arnold Schwarzenegger


Michael Biehn
Linda Hamilton
Paul Winfield

Music by
Brad Fiedel
Cinematography by
Adam Greenberg
Edited by
Mark Goldblatt
Production Company
Hemdale


Pacific Western

Distributed by
Orion Pictures
Language
English
Country
United States
Budget
$6.4 million
Box Office
$78.4 million
Sequels
Terminator 2: Judgment Day


Terminator 3: Rise of the Machines
Terminator Salvation
Terminator Genisys

Related Wikia
Terminator Wiki
The Terminator is a 1984 American action film directed by James Cameron and written by Cameron and Gale Anne Hurd. It stars Arnold Schwarzenegger, Michael Biehn, and Linda Hamilton.
The Time Travelers
Edit
Dystopian future
Artificial intelligence
Saving the world
Notable Quotes
Edit
"I'll be back." -- The Terminator
"Come with me, if you want to live." -- Kyle Reese
Time Travel Theories
Edit
Time Diagram
Edit
Popular Culture
Edit
Trailers
Edit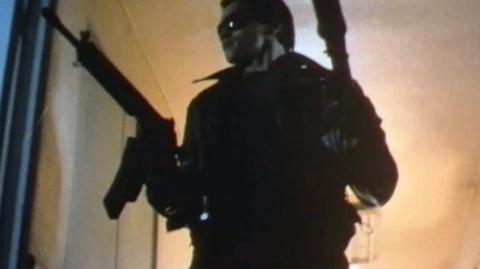 Ad blocker interference detected!
Wikia is a free-to-use site that makes money from advertising. We have a modified experience for viewers using ad blockers

Wikia is not accessible if you've made further modifications. Remove the custom ad blocker rule(s) and the page will load as expected.